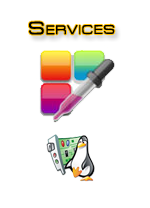 Our Approach

We start by evaluating how consumers perceive your product or service, how they feel about your competition and how they feel about the entire product category. Where do you fit in? What are your strengths, weaknesses, and opportunities?
Evaluating the Results
This is the way we build and evaluate a campaign, but in many ways, itís only part of the story. We believe in strong production values, flawless art direction, heavily researched media buys and ads with punch and class.
The Marketplace
Whatís going on around you? What are consumers really looking for? What innovations are taking place in your category? Are you a product without a market? Itís important to communicate a message that resonates with consumers. What are they feeling, doing, and thinking at every stage of the buying process?
Target Marketing
Who is the right audience for your message? What types of communications are they more open to? Who do they believe and disbelieve? What forms of media are best suited for telling your brandís story? And how does that story translate to all other forms of media you will be using, like public relations, direct marketing, print, outdoor, new media, and broadcast?
We Are In :
Hoarding Boards
Glow Sing Boards
Digital Printing
Flex Printing
Sun pack
Offset Printed Banner
Neon
Exhibitions
Kiosk
Event Management